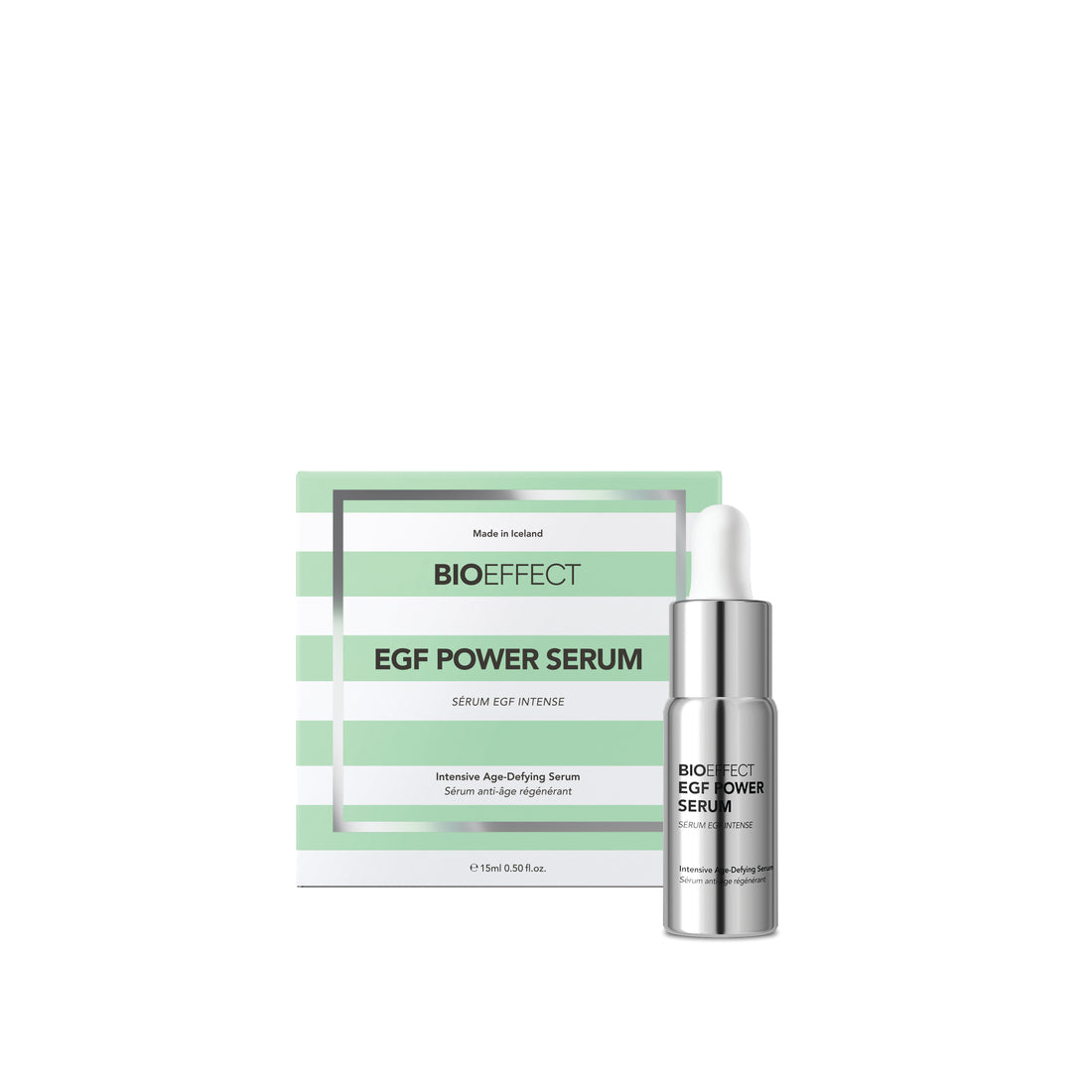 A new and intensive age-defying serum designed to support skin barrier function and brighten the complexion while targeting key signs of aging, including wrinkles, hyperpigmentation, and dehydration. The highly effective formula of only 12 ingredients features our signature Barley EGF, Barley KGF – a fortifying signaling protein that promotes the skin barrier – along with Hyaluronic Acid and NAG.
GLYCERIN, WATER (AQUA), SODIUM CITRATE, ACETYL GLUCOSAMINE (NAG), ISOPENTYLDIOL, PHENOXYETHANOL, SODIUM CHLORIDE, SODIUM HYALURONATE, CITRIC ACID, BARLEY (HORDEUM VULGARE) SEED EXTRACT, EGF (BARLEY SH-OLIGOPEPTIDE-1), KGF (BARLEY SH-POLYPEPTIDE-3)
For best results, apply 2-4 drops to face, neck, and décolleté, using circular, upwards motions. Apply in the morning and wait 3-5 minutes before applying a moisturizer, sunscreen, or makeup. Apply in the evening to clean skin for advanced skin repair while you sleep. Use on its own or layer with other BIOEFFECT products for maximum effect.
Effect / Condition
Anti-aging: ✓
Hyperpigmentation: x
Acne: ✓
Sensitive / Dry: ✓
Rosacea: x
Eczema: x
Bruising: x
Dry Nails: x
Intense Anti-Aging: ✓
Post Procedure: ✓
Hydration: ✓
Intense Hydration: ✓
Anti-Oxidant: x
Exfoliating: x
Brightening: x
Skin Type
Problematic: ✓
Oily: ✓
Normal: ✓
Dry: ✓
Sensitive: ✓
Combination: ✓
Dehydrated: ✓
Area of Body
Eyes: ✓
Face: ✓
Neck: ✓
Decollete: ✓
Lips: x
Body: x
Hair: x
Usage
Nightly Care: ✓
Daytime Care: ✓
Any: ✓
Age
Baby: x
Under 25: x
25-40: ✓
40-60: ✓
Over 60: ✓
Dr. Reszko's Cult Favorites