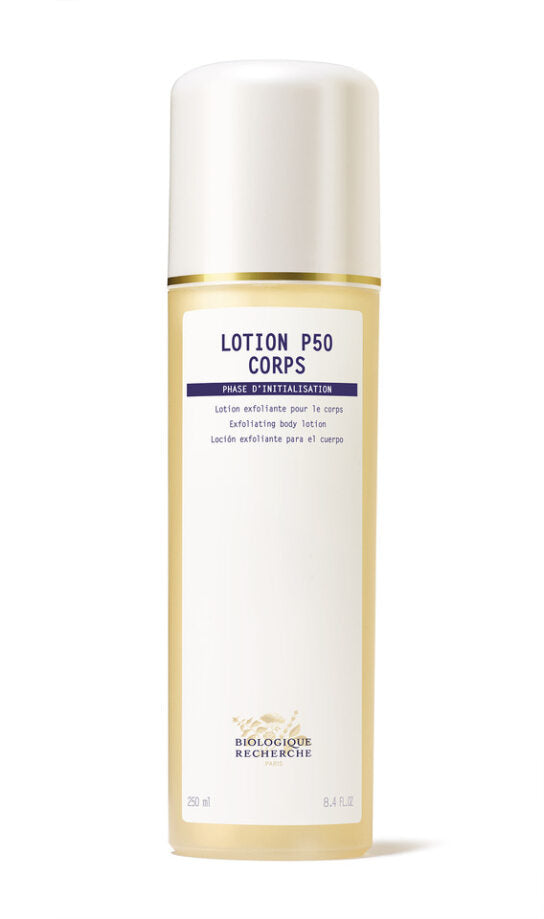 Lotion P50 Corps contains the core ingredients of the P50 formula – with added exfoliating power to suit the specific thickness of the epidermis on the body – along with toning active ingredients. The epidermis is purified so skin is clean, rebalanced and ready to receive the next stage of skincare. Recommended for all Skin Instants.
WATER (AQUA), SODIUM LACTATE, GLUCONOLACTONE, SODIUM GLUCONATE, LACTIC ACID, CITRIC ACID, PROPYLENE GLYCOL, VACCINIUM MYRTILLUS FRUIT EXTRACT, MAGNESIUM CHLORIDE, VINEGAR (ACETUM), SACCHARUM OFFICINARUM (SUGAR CANE) EXTRACT, NIACINAMIDE, SODIUM BENZOATE, SODIUM SALICYLATE, MALIC ACID, CITRUS AURANTIUM DULCIS (ORANGE) FRUIT EXTRACT, CITRUS LIMON (LEMON) FRUIT EXTRACT, GLYCERIN, PHYTIC ACID, ACER SACCHARUM (SUGAR MAPLE) EXTRACT, BETULA ALBA BARK EXTRACT, SPIRAEA ULMARIA EXTRACT, SORBITOL, POTASSIUM SORBATE, CAPSICUM FRUTESCENS FRUIT EXTRACT
Carefully cleanse the body, then apply Lotion P50 Corps onto the entire body by performing upward massaging movements. All areas must be treated, in particular dry and rough areas (feet, elbows, knees). Equipped with a spray, the lotion is evenly applied over the entire body, notably facilitating application onto the back.
Effect / Condition
Anti-aging: x
Hyperpigmentation: x
Acne: x
Sensitive / Dry: x
Rosacea: x
Eczema: x
Bruising: x
Dry Nails: x
Intense Anti-Aging: x
Post Procedure: x
Hydration: x
Intense Hydration: x
Anti-Oxidant: x
Exfoliating: x
Brightening: x
Skin Type
Problematic: x
Oily: x
Normal: x
Dry: x
Sensitive: x
Combination: x
Dehydrated: x
Area of Body
Eyes: x
Face: x
Neck: x
Decollete: x
Lips: x
Body: ✓
Hair: x
Usage
Nightly Care: ✓
Daytime Care: ✓
Any: ✓
Age
Baby: x
Under 25: ✓
25-40: ✓
40-60: ✓
Over 60: ✓
Dr. Reszko's Cult Favorites