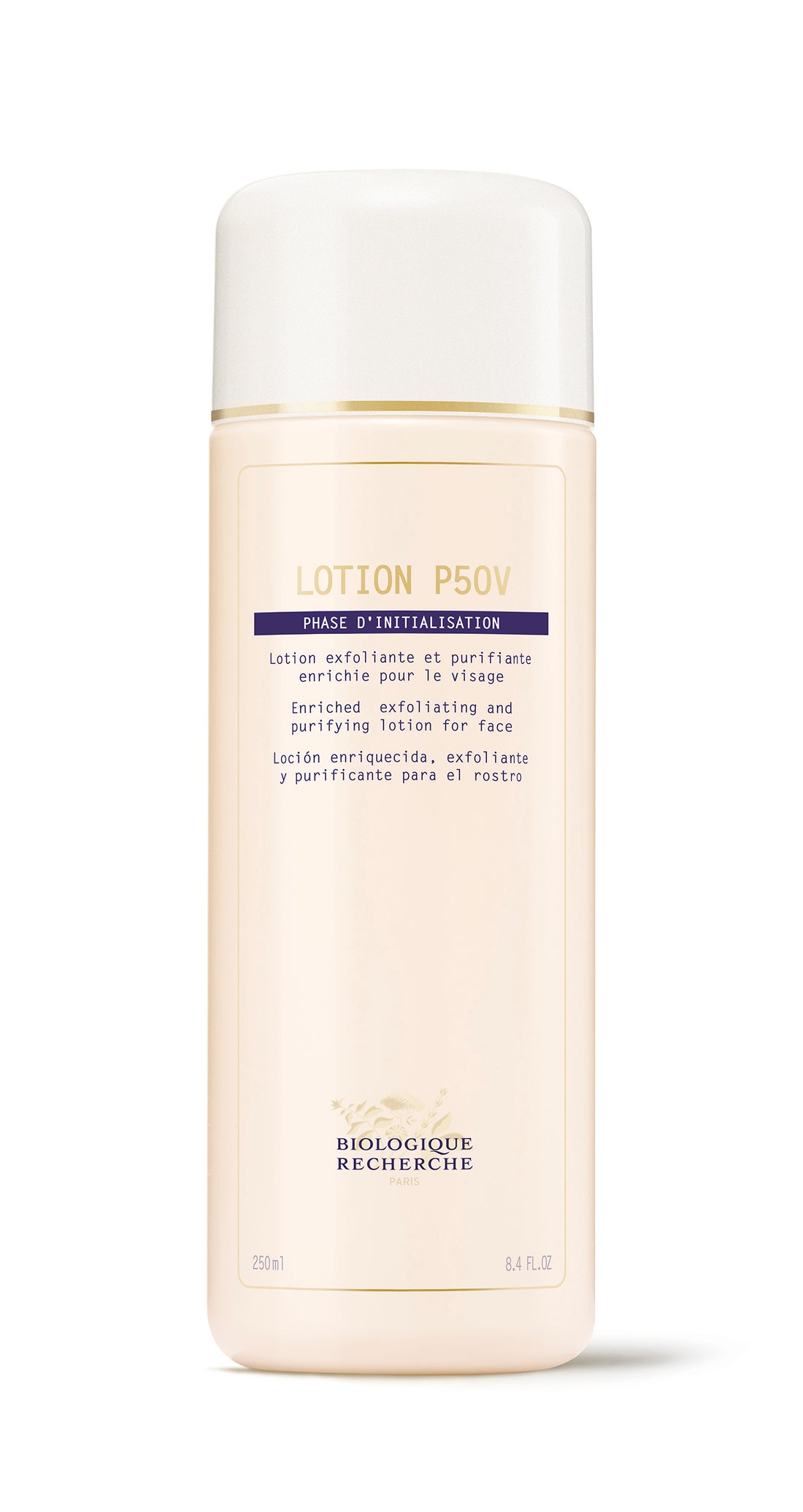 Lotion P50V is an unique multi-purpose treatment that provides gentle and graudal exfoliation of the skin's superficial layers. When used on a daily basis, it removes dead cells and impurities while rebalancing the pH on the skin's surface to improve epidermal strength and quality. It also stimulates epidermal functions to strengthen and tone the epidermis. The skin is purified, smoother, and more toned. It is therefore perfect for devitalized skin instants or those lacking tone.

WATER (AQUA), GLUCONOLACTONE, GLYCERIN, PROPYLENE GLYCOL, NIACINAMIDE, LACTIC ACID, ETHOXYDIGLYCOL, VINEGAR (ACETUM), MAGNESIUM CHLORIDE, CITRIC ACID, MALIC ACID, PHYTIC ACID, SPONGILLA LACUSTRIS SPICULE EXTRACT, YEAST EXTRACT (FAEX EXTRACT), COCHLEARIA ARMORACIA (HORSERADISH) ROOT EXTRACT, CAPSICUM FRUTESCENS FRUIT EXTRACT, JUGLANS REGIA (WALNUT) SEED EXTRACT, ARCTIUM LAPPA ROOT EXTRACT, SULFUR, SODIUM SALICYLATE, SALICYLIC ACID, SORBITOL, PHENOXYETHANOL, SODIUM METABISULFITE, SODIUM BENZOATE.

Carefully remove makeup from the face and neck with the milk suitable to your Skin Instants. During the first week of use, soak a pre-dampened cotton pad with Lotion P50 and apply by tapping the face, neck and décolleté, without rubbing. The following days, soak a dry cotton pad with Lotion P50.
** A slight tingling sensation may be felt. This is normal and a sign that Lotion P50 is working, starting to rebalance the epidermis. This tingling sensation will decrease with use and as the skin's pH becomes balanced. If the tingling is too uncomfortable, you can rinse off Lotion P50 by spraying a little Eauxygénante on the face, or by simply rinsing with a natural water spray.

Effect / Condition
Anti-aging: x
Hyperpigmentation: x
Acne: ✓
Sensitive / Dry: x
Rosacea: x
Eczema: x
Bruising: x
Dry Nails: x
Intense Anti-Aging: x
Post Procedure: x
Hydration: ✓
Intense Hydration: x
Anti-Oxidant: x
Exfoliating: ✓
Brightening: ✓
Skin Type
Problematic: ✓
Oily: ✓
Normal: ✓
Dry: ✓
Sensitive: ✓
Combination: ✓
Dehydrated: ✓
Area of Body
Eyes: x
Face: ✓
Neck: x
Decollete: x
Lips: x
Body: x
Hair: x
Usage
Nightly Care: ✓
Daytime Care: ✓
Any: ✓
Age
Baby: x
Under 25: ✓
25-40: ✓
40-60: ✓
Over 60: ✓
Dr. Reszko's Cult Favorites