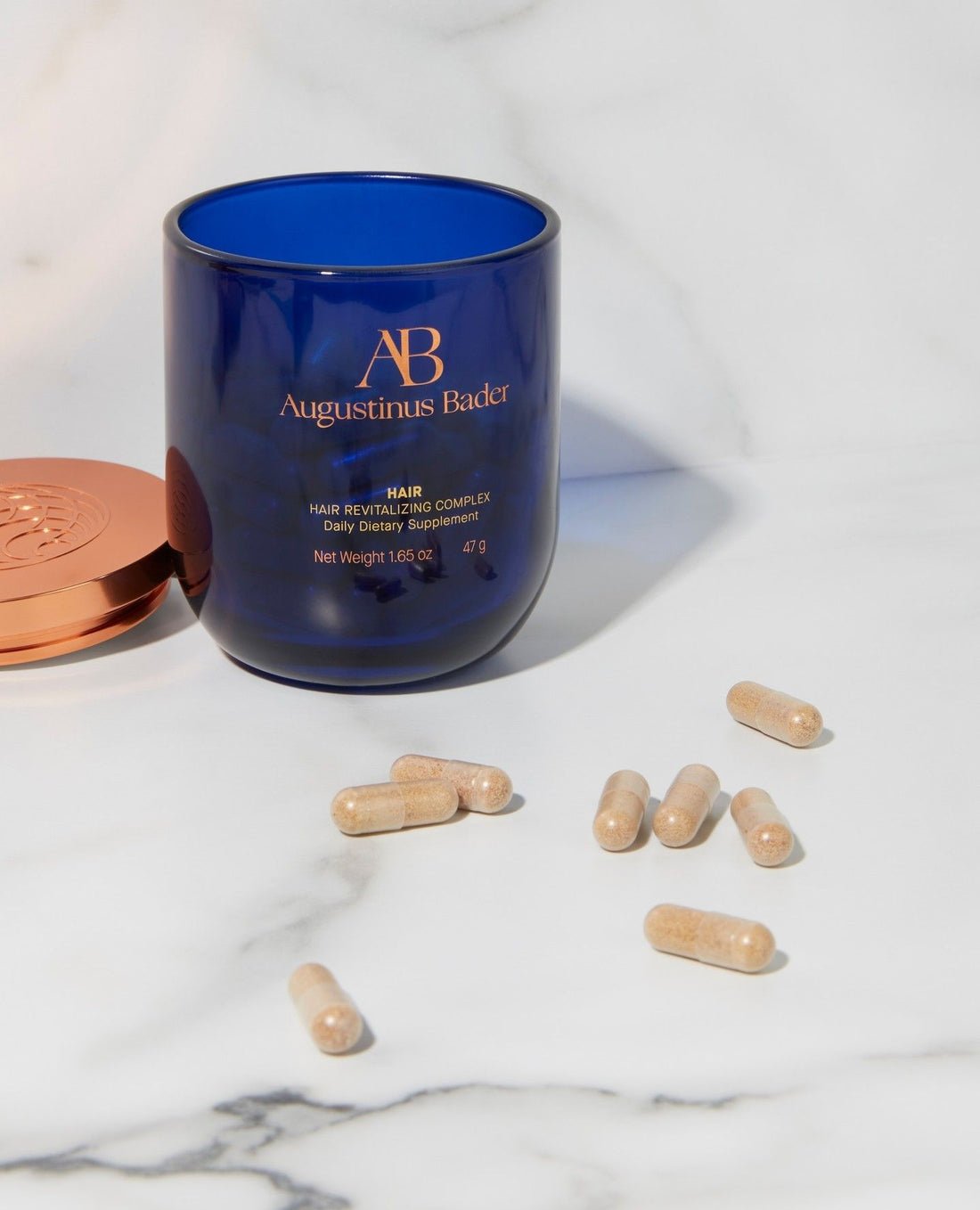 THE HAIR SUPPLEMENTS REFILL USA
The Hair Revitalizing Complex is a clean, science-backed dietary supplement proven to improve hair health and quality, support new hair growth, and actively combat damage, shedding, breakage, and loss - providing tangible results for your most pressing hair concerns.

Backed by over 30 years of research in cellular repair, this unique formulation takes a sophisticated approach to supporting the internal pillars of a revitalized scalp and thriving, healthy hair: Improved cellular functioning, a healthy hair-follicle microenvironment, the efficient delivery of oxygen and nutrients to and removal of cellular waste from the hair follicles, the synthesis of keratin and collagen, and proper, purposeful nourishment. This is haircare redefined.

HYDROXYPROPYLMETHYLCELLULOSE (CAPSULE), COENZYME Q10, L-ARGININE, ASCORBIC ACID (VITAMIN C), BAMBOO RESIN POWDER (BAMBUSA ARUNDINACEA), BANANA FLOUR POWDER (MUSA ACUMINATA, FLOWING AGENT), SAW PALMETTO FRUIT EXTRACT (SERENOA REPENS), GOLDEN CHAMOMILLE AERIAL PARTS EXTRACT (CHRYSANTHELLUM INDICUM), ROSMARY LEAF EXTRACT (ROSMARINUS OFFICINALIS L.), GRAPESEED EXTRACT (VITIS VINIFERA L.), MILLET SEED EXTRACT (PANICUM MILIACEUM L.), MORINGA LEAF POWDER (MORINGA OLEIFERA LAM.), ZINC BISGLYCINATE (ZINC), FENUGREEK SEED EXTRACT (TRIGONELLA FOENUM-GRAECUM L.), NETTLE ROOT EXTRACT (URTICA DIOÏCA L.), ASHWAGANDHA ROOT EXTRACT (WITHANIA SOMNIFERA L.), L-TYROSINE, L-LYSINE HYDROCHLORIDE, NIACIN (VITAMIN B3), INOSITOL, SODIUM MOLYBDATE (MOLYBDENUM), L-SELENOMETHIONINE (SELENIUM), SOD (SUPEROXIDE DISMUTASE AS CURCUMIS MELO L. EXTRACT), MENAQUINONE-7 (VITAMIN K), CALCIUM D-PANTOTHENATE (VITAMIN B5), CHOLECALCIFEROL (VITAMIN D), RIBOFLAVIN (VITAMIN B2), PYRIDOXINE CHLORHYDRATE (VITAMIN B6), COPPER GLUCONATE (COPPER), THIAMIN (VITAMIN B1), FOLIC ACID (VITAMIN B9), D-BIOTIN (VITAMIN B8), METHYLCOBALAMINE (VITAMIN B12).
The Hair Revitalizing Complex are clean capsules designed for daily use and optimal absorption. Take 3 capsules by mouth once a day with plenty of water. Can be taken with or without a meal.
Effect / Condition
Anti-aging: x
Hyperpigmentation: x
Acne: x
Sensitive / Dry: x
Rosacea: x
Eczema: x
Bruising: x
Dry Nails: x
Intense Anti-Aging: x
Post Procedure: x
Hydration: x
Intense Hydration: x
Anti-Oxidant: x
Exfoliating: x
Brightening: x
Skin Type
Problematic: x
Oily: x
Normal: x
Dry: x
Sensitive: x
Combination: x
Dehydrated: x
Area of Body
Eyes: x
Face: x
Neck: x
Decollete: x
Lips: x
Body: x
Hair: ✓
Usage
Nightly Care: x
Daytime Care: x
Any: ✓
Age
Baby: x
Under 25: ✓
25-40: ✓
40-60: ✓
Over 60: ✓
Dr. Reszko's Cult Favorites